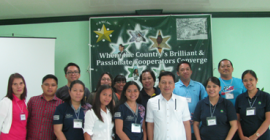 "Reliability, Innovations, Sustainability and Excellence." CRMC's slogan is a true reflection of its desire to help build a better society by providing opportunities for continuing education and trainings to Cooperatives, Non-Government Agencies, Government Institutions, Youth, Professionals and School Administrators.
CRMC, Inc. was registered with Securities and Exchange Commission on May 1, 2003 and began to operate in the different parts of the country. After few years of operation, the company became a highly reliable service provider throughout the Philippines. This was made possible through the conduct of seminars and trainings which are more responsive to the needs of its clients.
To help address the educational and training needs of hundreds of cooperatives nationwide, CRMC has designed quality programs that are affordable even to small cooperatives and other clients nationwide.

Request Call Back.
Would you like to speak to one of our financial advisers over the phone? Just submit your details and we'll be in touch shortly. You can also email us if you would prefer.